A composer equally accustomed to writing for orchestra, opera, film, theater, chorus, piano and chamber ensembles, Brian Wilbur Grundstrom's voice includes a strong affinity for long melodic lines, distinctive tonal harmonic vocabulary, engaging rhythms, skillfully executed counterpoint, and dramatic imagery.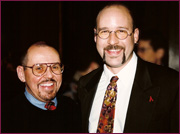 Classically trained in piano as well as music theory from Gettysburg College, he has continued orchestration and composition studies with John David Earnest (with BWG in photo).
Grundstrom won Outstanding Emerging Artist in the 2013 DC Mayor's Arts Awards and has received five grants from the D.C. Commission on the Arts and Humanities, an agency supported in part by the National Endowment for the Arts. His awards also include Encore from American Composers Forum, ASCAPLUS from ASCAP and Composers Assistance Program from the American Music Center. He has received Peer Awards for Sadie's Waltz and Arc of Light: A Portrait of Anna Campbell Bliss from Television, Internet, & Video Association of DC (TIVA-DC), and an OutMusic nomination for Pepe! The Mail Order Monkey Musical, which sold out as part of the Capital Fringe Festival.
A member of ASCAP, Grundstrom attended the prestigious ASCAP/NYU Buddy Baker Film Music Workshop. His features include Arc of Light: A Portrait of Anna Campbell Bliss, and 2 Minutes Later, in addition to writing music for many short films. His studio includes the latest in technologies, including Vienna Symphonic Library, and he is able to render his orchestral compositions at high professional standards.
His music has been performed by Orquestra sinfônica do Teatro Nacional Claudio Santoro (Brasilia, Brazil), La Orquesta Sinfónica de Guayaquil (Ecuador), Sunderman Woodwind Quintet, SONOS Chamber Orchestra, North/South Consonance, Shippensburg Festival Orchestra, Trinity Chamber Orchestra, George Washington University Orchestra, NIH Philharmonia, Holyoke Civic Symphony, The Queer Urban Orchestra, Symphony Orchestra of Northern Virginia, Chamber Music by Candelight by Baltimore Symphony Orchestra musicians. Colla Voce and The New Jersey Gay Men's Chorus as well as on the Kennedy Center Millennium Stage.
Grundstrom's CD, An Orchestral Journey is being released on August 12, 2016 by Parma Recordings under the Navona Records label with distribution by Naxos. The CD features his orchestral music conducted by Erik Ochsner at the Omega Recording Studios. Brian is currently working on an opera based on Ernest Hemingway's For Whom The Bell Tolls.
Sonos Chamber Orchestra Director Erik Ochsner writes "Many audiences cringe at the thought of new music. We had such positive feedback from audiences on how much they enjoyed Grundstrom's work. It is modern, yet tonal."
Maestro Jeffrey Dokken writes about American Reflections for Strings and Harp: "The polyphony of the work is nothing short of genius. Truly. The relationship between the parts is so well written. Having your work on the program was wonderful. It truly embodies the best of American contemporary classical music. It is rhythmically enticing, harmonically satisfying and interesting, makes full use of what a string section can do, shows a broad spectrum of colors without forcing anything, provides several 'eye closingly beautiful moments', and keeps the audience engaged from beat one."
Edward Tyndall, Writer/Director of Sadie's Waltz (Mobius Films) writes: "It was a joy to work with Brian on my last two projects. His dedication to the collaborative nature of filmmaking and the creative process greatly increased the dramatic complexity of my films. Brian has an amazing talent for composing cinematic scores. I look forward to working with him on our next film."
Brian is currently writing an opera based on Ernest Hemingway's For Whom The Bell Tolls. He is represented by Jeffrey James Arts Consulting and his compositions can be heard at www.brianwilbur.com.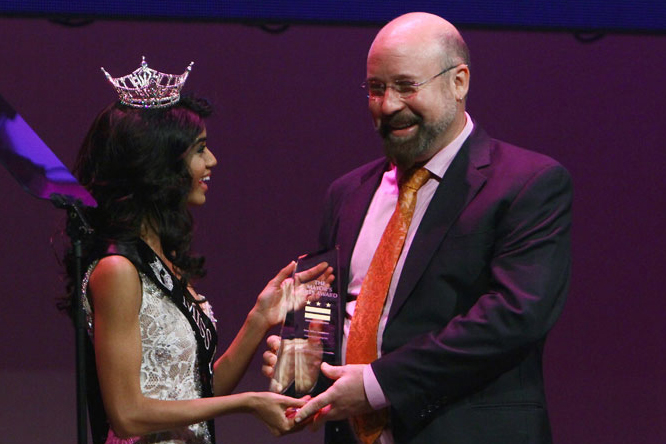 Bindhu Pamarthi presents Composer Brian Wilbur Grundstrom with the Outstanding Emerging Artist Award at the Mayor's Arts Awards in Washington DC. (photo above by EDI Photography) Below with presenters Jonathan Katz and Robin Bronk.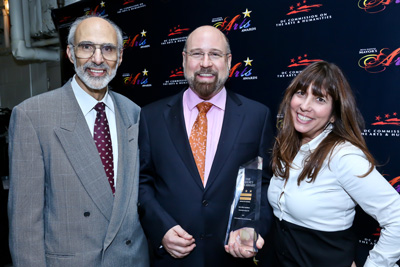 ---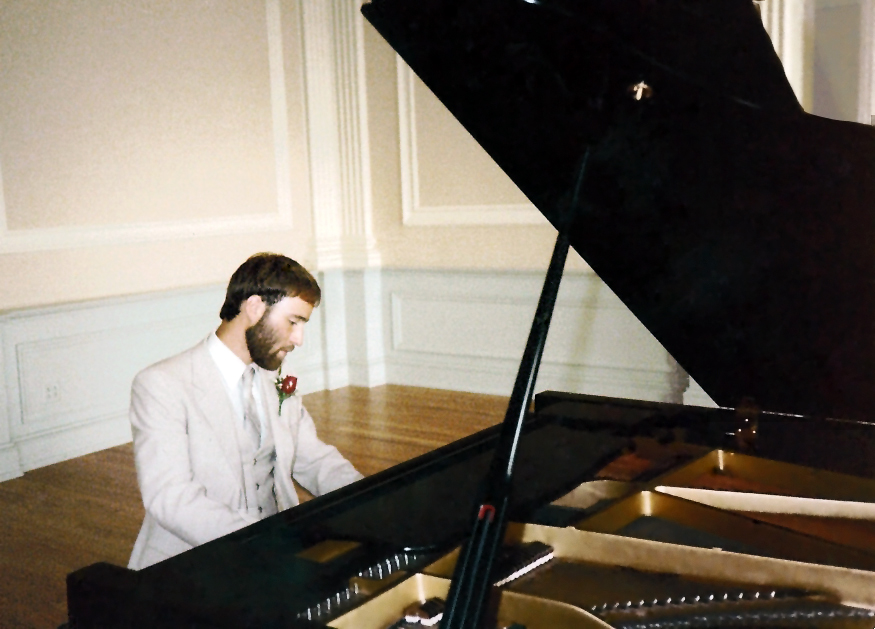 Senior Piano Recital at Gettysburg College in 1985