Interview with Jeffrey Scott
The 202Studio
The DC Commission on the Arts and Humanities




There is much of interest as well on a new Navona CD of the music of Brian Wilbur Grundstrom – a release bearing the title, "An Orchestral Journey." The travel here seems more to be personal for Grundstrom than connected directly to the audience: the five works on the disc, composed over a period of a decade and a half, show the composer exploring differing moods, styles and techniques. The works are arranged chronologically and provide some insight into Grundstrom's changes in compositional emphasis, although the overall sound of the music is similar enough among the five pieces to indicate that Grundstrom has his own voice that recurs from piece to piece. The earliest work here is Contentment, Poem for Orchestra (1999), and it is a transformative tone poem in the tradition of, say, Richard Strauss' Death and Transfiguration. However, what evolves here is mood rather than anything grandly philosophical. Jubilation! Dance for Orchestra (2000) is written in much the same mood throughout, although its rhythmic and thematic explorations eventually lead it to an even brighter and more upbeat conclusion. Suite for Chamber Orchestra (2002) is more emotionally varied than either earlier work, almost a "stages of grief" exploration, with tragic elements giving way to what sounds like acceptance and eventually to an expression of joy that seems, in light of what has come before, somewhat overdone. The work's three movements make its progress clear: "Before the Fall," "Avalon" and "Celebration." But the finale, although it certainly provides a sense of relief, seems somewhat too bright after the first movements' depth of feeling. American Reflections for Strings and Harp (2009) sounds like film music, energetic and nicely scored but somewhat superficial in its forthright evocation of varied feelings. Chenonceau (2013) is at something of an opposite pole, a subtle work using skillful orchestration and interesting instrumental combinations to provide contrast between strings and woodwinds. The title refers to a historic 16th-century castle in the Loire Valley of France that is known for its garden maze and the way it actually spans the River Cher. The quality of this piece is evident from the fact that it is not necessary to understand its title or know what referents it contains for a listener to be able to enjoy the work purely as music. This is a (+++) CD that, while it may not appeal to all listeners and does not offer material of uniform interest, shows a great deal of compositional skill and provides some very fine and sensitive performances of works by a contemporary composer whose solid craftsmanship offers much to be admired.
---


With three large, gilded frames hanging directly in front of the audience, A Day at the Museum flips your perspective, making you watch the performance through the viewpoint of displayed art. Exactly which piece of art's view you are seeing is shown in the background, where a nude woman sits behind a gauzy cloth, which is sheer enough to show her figure, but hazy enough to be discreet about it. Not a word is spoken throughout the entire performance; the actors pantomime, expertly showing their emotions through expressive gestures.
An original and beautiful score by Brian Wilbur Grundstrom moves the play along, and the audience is treated to touching and humorous antics of the public that a work of art, if it could see, would be subjected to on a daily basis. The actors (or should I say – mimes) are animated and a delight to watch, whether they are dressed as the stereotypical DC tourist wearing a plastic poncho, or a shirtless man wearing a leash and a studded collar (I at first wondered what on earth I got myself into, before realizing that he was actually supposed to be ~phew~ a dog). I enjoyed it immensely and highly recommend it.
Running time: 35 minutes.
Comments
About Julia Exline

Julia Exline graduated from Longwood University in 2009 with a B.A. in English and a concentration in Creative Writing. She is delighted to be involved with the Maryland Theatre Guide, as it allows her to bring writing back into her life. Julia enjoys browsing used book stores and collecting rare, out-of-print children's books.
---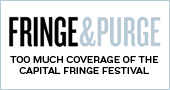 Posted by Logan K. Young on Jul. 12, 2011 at 5:30 pm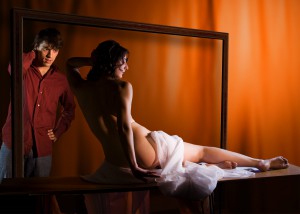 Warehouse, 645 New York Ave. NW (moved from 1019 7th St. NW, as previously listed)
Remaining Performances:
Friday, July 15, at 10 p.m.
Saturday, July 16, at 7 p.m.
Wednesday, July 20, at 10:15 p.m.
Saturday, July 23, at 2:15 p.m.
They say: "A wordless comedy set to an original orchestral score by Brian Wilbur Gundstrom. A nude woman in a painting looks out at people whose lives intersect while visiting an art museum. A playfully sexy look at love and art."
Logan's Take: Robert Barnett's mime act runs about a quarter short of its advertised hour. And honestly, that's probably a good thing; any longer, and the shtick could've gone stale. As it plays now, 45 minutes is the perfect length for these nine actors to express themselves through movement and gesture, sans speech. Save for three dangling picture frames and one picturesque naked woman — albeit behind a minimal thread-count sheet — that's about all, folks. No words, no spotlights, barely any props. Nada. It's très Beckett, indeed.
Speaking of, if Buster Keaton was the ideal choice for Beckett's Film because of his slapstick past, likewise, the best performers here in Barnett's play are Synetic Theater vets. NoVA's premiere physical theater troupe, DMV audiences are no doubt fluent in their tellingly-abridged Shakespeare. Of course, King Lear this one's not, especially given Perry Schwartz's astute direction. The spot-on gestures of consummate stage actors like Ryan Sellers, Pamela Nash, and John Milosich (who also serves as chief choreographer) make dialogue unnecessary anyway.
Much of the credit for A Day at the Museum's success, however, has to go to Brian Wilbur Gundstrom's striking score. It's a curious, often intoxicating mix of chamber ensemble and electronic timbres. No mere incidental music, Gundstrom's score works very much like a modern Wagner opera in miniature — leitmotifs letting you know not just who's on stage, but also if they're good or bad, happy or sad. Syncing live motion to canned music is a notoriously difficult enterprise. If I had just one wish, it would be that one day, this specific Day will get the real accompaniment it rightfully deserves.
See it if: You like what its tagline promises in earnest: "nudity, comedy, and art…set to music."
Skip it if: You hate fun altogether.
Inserted from washingtoncitypaper
---
Josh Novikoff
A Day at the Museum is an artful, surprising, and engaging Capital Fringe work. I had preconceived doubts about this wordless play. Looking at the promotional photo and description ("A nude woman in a painting looks out at people"), I imagined an oil on canvas startling an admirer with a wink, throwing an icy stare back at an ogler, or maybe even stepping out for a rendezvous with Ben Stiller.
The play, though, is much more about the parade of characters coming through the museum. The silhouette of a nude model appears and fades away behind a large white sheet. She strikes alternating poses of innocence, motherhood or sensuality based on which of three large picture frames museum visitors are viewing. The actors make their way through the gallery of these images with their back to the actual model, looking out through the frames directly at the audience.
The focus is on the characters, their reactions to the painting and their interactions with each other. Robert Barnett catches just about every type of visitor you might expect to see and some you may not expect at the Smithsonian Gallery of Art. Memorable ones include an Asian tourist, a shirtless dom with his lover on a dog collar and chain, and a disinterested Scout family. But there are dozens, several played by each performer, and the acting and direction from Perry Schwartz brings each to life and leaves you hanging on each hand gesture and facial expression, excited for the next introduction.
A Day at The Museum proceeds almost like a dance performance. Movement and mimed actions are choreographed thoughtfully, leaving words unnecessary to convey how each character is reacting to the three paintings. The background that several of the actors, including John Milosich, have in physical theater from their work with Arlington's Synetic Theater is evident.Just as vital to this purpose is the score of Brian Wilbur Grundstrom who composed the music and also happens to be the play's producer. A celebrated composer, every step, shrug, head tilt, and double-take taken corresponds to the notes of Grundstrom's strong score.
A Day at the Museum embodies the spirit of Fringe because chances are it's not like anything you've seen before. It's a classy, tasteful, and polished experiment.
A Day at the Museum has four remaining shows on July 15, 16, 20, and 23. Tickets are available online.
Contact the author of this article or email [email protected] with further questions, comments or tips.
By Josh Novikoff in Arts and Events on July 15, 2011 9:30 AM 0View
© 2003-2010 Gothamist LLC. All rights reserved. Terms of Use & Privacy Policy.
Inserted from dcist.com
---
Montgomery County residents participate in the Capital Fringe Festival
by Topher Forhecz, Staff Writer
The silent movie may be dead, but its theater counterpart is far from it. In "A Day at the Museum," which runs Sunday through July 23 at the Capital Fringe Festival, director Perry Schwartz uses no words to tell the story of a mother and daughter's visit to an art museum.
Within 35 minutes and without dialogue, the Silver Spring director establishes multiple plotlines along with a variety of characters.
"There are eight actors altogether and they probably play … 30 different characters, so there's lots of doubling," Schwartz says.
Artistic director of Montgomery College's Arts Alive Theatre series, this is Schwartz's first time as a Fringe Fest participant. After responding to the festival's call for directors, Schwartz was hooked up with the show's composer, Brian Wilbur Grundstrom. The play was performed at the 2008 New York Fringe Festival and Grundstrom decided to remount the production for Washington, D.C., audiences.
Schwartz says the contemporary classical music matches the play's quirkiness.
"It's a comedy ... that hopefully will make people laugh. It's pretty broad and it has a little love story," Schwartz says. "It has a little touching story between a mother and daughter."
Aside from the lack of talking, another feature that sets the play apart is its setup. When the actors visit the museum, three empty frames line the stage's foreground.
"What's in the frames is represented by a nude model who's upstage behind the scrim, and at certain time she assumes the pose that each of the paintings is supposed to be," Schwartz says. "And we light her at certain times and the audience can understand that the pose is the painting that the characters in the play are looking at."
This willingness to explore artistic boundaries is something founder and executive director Julianne Brienza says is in line with the Capital Fringe Fest's mission.
"Just to provide a place for an artist to do what they want to do without the barriers that are put in front of them," she says. "Whether it be monetary, not being able to rent a space, not being able to afford that or not being able to get chosen because a lot of things in D.C. are curated."
Beginning tomorrow and running through July 24, The Capital Fringe Fest has been presenting new and interesting works since its premiere in 2006. This year's festival will present more than 100 pieces. One of its co-founders, Brienza says the plays were accepted on a "first come, first served" basis. Most of the 11 official Fringe venues are located near the Fringe's Mount Vernon headquarters.
"We're going to have seven venues on one block," she says.
The Capital Fringe Fest runs today through July 24. "Pascal's Aquarium" runs Friday through July 24 at The Mountain Mount Vernon Place United Methodist Church, 900 Massachusetts Ave. NW, Washington, D.C. "A Day at the Museum" runs Sunday through July 23 at the Warehouse Theater, 645 New York Ave. NW Washington, D.C. "GS-14" runs from Saturday through July 24 at Spooky Universe the Universalist National Memorial Church, 1810 16th Street NW Washington, D.C. Entry for shows requires a one-time purchase of a $9 button. Each show is $17. For information visit 866-811-4111 or visit www.capfringe.org.
---
---
By AMY CAVANAUGH
Friday, November 17, 2006
Gay composer Brian Wilbur Grundstrom discards traditional methods of composing music and instead embraces innovation and technology. I don t write with a key signature, says Grundstrom, who also composes on a computer, I need to do something challenging that holds attention.

This recipe for composition has succeeded, and Sunday, Nov. 19, marks the world premiere of Grundstrom s Jubilation! Dance for Orchestra. The piece is part of the George Washington University Orchestra s fall concert scheduled for 3 p.m. at Lisner Auditorium. The concert also includes Beethoven s Symphony Number 6 and Mozart s Die Zauberflöte overture.

When Grundstrom, 43, began composing Jubilation! he wanted something upbeat, easy to shop around and under 10 minutes long. In typical Grundstrom fashion, the piece is written in 5/4 time, a rhythm not frequently heard in standard music.

I use 5/4 and 5/8, he says. It keeps things interesting, accessible and melodically fairly complex, even though it s still simple. Nancia D Alimonte, the director and conductor of the George Washington University Symphony Orchestra, is conducting Grundstrom s work for the first time. She notes Grundstrom s use of meter in Jubilation.

It s not in straightforward 4/4 or common time, D Alimonte says. The music is accessible but there are an awful lot of challenging rhythms that the orchestra has been able to handle.

Grundstrom, who lists Chopin, Joplin and Shostakovich as influences, attended rehearsals for the GWU Orchestra s fall concert.

It was fun to watch them and watch the piece mature with them, he says, Normally with professional orchestras you have limited rehearsal time, but with the university orchestra, it s a course, so they re really dedicated and focused on it.

D Alimonte has also valued the shared time with the composer.

It s nice that he s there, because there have been questionable notes or a harmony that didn t line up, D Alimonte says, Since the score had never been played before, these kinds of things dohappen. He s there more as a resource. Since he s alive and well and kicking, you can ask him what he meant, unlike with deceased composers, where you sometimes wonder, what did Shostakovich want here?

GRUNDSTROM BEGAN COMPOSING in high school, and he earned his BA in music from Gettysburg College, before earning an MBA in arts administration from SUNY Binghamton. At Gettysburg he took several courses in composition and studied piano. Despite his experience with the piano, Grundstrom composes for other instruments as well and delves into various types of composition.

I had a brief venture on the baritone [horn] in high school, but I love all the instruments, and it s fun getting to know them and what they can do, he says. When you have an orchestra, it s probably easier to compose for since you can switch between instruments and provide variation. In October, the Trinity Chamber Orchestra of Washington premiered one of Grundstrom s pieces, Before the Fall, at St. Ann s Church in D.C. He also did a commission, How I Met Sam, for Colla Voce in San Francisco. Children s author James Skofield wrote the lyrics for the piece, and it was sung at the 2006 Out Games in Montreal.

It was performed in an 850-seat hall, where everyone [was] in a jovial mood, says Grundstrom. I had a hard time getting my friends in since every ticket was gobbled up. There s a live recording on my website, and the piece is very campy.

Grundstrom also sings, and was part of the New York City Gay Men s Chorus for eight years. Performing wonderful music as gay men, just being up there openly gay makes a statement, he says. The chorus was very important to me in New York and being in a room full of gay men that wasn t a bar was extraordinary.

ORIGINALLY FROM LEWISBURG, Penn., Grundstrom lived in New York City for 17 years where he worked at the Brooklyn Academy of Music. He moved to D.C. two and one half years ago with his partner and now works doing database administration for the Washington National Opera. Washington has been a good place for me, he says. I ve made good connections with music and found opportunities for playing. When you move, you re able to re- prioritize everything, and I am really able to just focus on the music.

Focusing on the music has paid off. Last year Grundstrom received an artist fellowship from the D.C. Commission on the Arts and Humanities and has been commissioned to do a piece for the New Jersey Gay Men s Chorus.

He also hopes to do more film music. He has composed music for three short films, including Machinations, a film by Tohubohu Productions and directed by William R. Coughlan, which will be screened on Friday, Nov. 17, at the Georgetown/Adams Morgan Film and Music Festival. Though it s difficult for instrumental works to be considered gay, Grundstrom notes that gay films and gay choruses often use the work of gay composers, musicians and lyricists. I think it s important to be out as a musician, Grundstrom says. It s gay works that come out and speak about our love and tell our stories in our context.
---
The Washington Post
Friday, July 10, 2009
'Pepe' at Home at Fringe Fest
It's two weeks before opening night, and the cast of the Capital Fringe Festival's "Pepe! The Mail Order Monkey Musical" is still making do without a finished set, costumes or props. Worse, Rick Hammerly, the Helen Hayes Award-winning actor who plays the titular primate, is out sick, having been replaced -- for the show-stopping number that includes the lament "What Am I Doing in This Box?" -- by musical director Brian Wilbur Grundstrom and -- for his poop-flinging escape from the aforementioned shipping container -- by co-choreographer Nora Lockshin.
Nevertheless, the music and vocal performances are almost shockingly polished, and not only for a Fringe show, which this most definitely is.
Based on the real-life experience of local glass artist Tim Tate -- who as a 9-year-old in the late 1960s sent $19.95 for a live squirrel monkey, only to have the animal wreak havoc on his mother's bridge club -- the musical by filmmaker Jon Gann, founder of the D.C. Film Alliance, is an at-times-funny, at-times-poignant meditation on freedom. It also has been given a somewhat happier ending than the actual story. The show may be all Gann's, as Tate is quick to point out, but that doesn't stop Tate from providing a quick promotional blurb. "It's 'Les Miz,' " he says, "with a monkey."
-- Michael O'Sullivan
---
Brian: Pepe! is my first musical, but not my first time writing for voice, nor the orchestra, nor for theater. I have written several choral works, so the process of setting text to music was not new, but the traditional Broadway format requested by Jon was new. In writing concert choral works, I had more liberty to repeat and expand the text as required by the music. The Broadway format, however, I found to be much more rigid, and more about getting through the text. Not the lingering aria I wanted to write.
Joel: Talk about the process of writing the score.

Brian: Jon (Gann) may have requested a simple traditional Broadway format, but given my classical orchestral training and film work, there was no way that I was not going to have my [sophisticated if I may] voice work its way into the music. For example, rhythm was extremely important in "It's Here". Not written the standard 3/4 or 4/4, the compound meter (3+3+2+2/8) provided for that "extra" beat that made the song both sophisticated and catchy. This meter challenged the actors, but they rose to the occasion and the hard work paid off.
The structure, while limiting, however does provide a framework within which creativity can flourish. While Jon provided me with the structure – the A B and C parts, the text also required subtle variations, much like the flourishes on a Chopin Nocturne to provide interest while repeating the same material. Orchestration was also key to provide variation along with character development depending on who was singing the verse. For example, Chris got rock drums as part of his rebellious character. The father's lines were simplified to be more in character.
Given this emphasis on a pre-defined format, writing Pepe required a lot of manipulation of the fundamentals of music – melody, harmony and rhythm. Unlike my orchestral compositions, the more impressionist elements of texture and dynamics took a secondary role, providing variation in repeats as opposed to defining structure.
I was actually surprised how much I used my knowledge of music theory to help me solve the problems at hand. In fact, it was considerably more than my recent concert premiere of "American Reflections for Strings and Harp". In writing for orchestra, I orchestrate as I compose, and I have learned that I really can trust my ear to let me solve the issues at hand, and only analyze harmony as needed if a problem arises.
By contrast, writing for Pepe! started first with a piano score, and orchestrations were the last thing to be completed (and changed until the day before opening). During this process, parts of the musical had to be moved around and adapted to fit as necessary. Solving these issues required much more harmonic skill to get them to work appropriately. And add to that the obligatory "cheap modulation" to provide forward motion, as well the accommodation of the singers' vocal ranges. Finesse and sophistication of music theory is required to make these modulations work properly and not sound tacky.
Another example of the deliberate use of harmony is in "He's Gone", where I employed a deceptive cadence to create interest. (A deceptive cadence means resolving to sixth rather than the tonic. In C major, that would meaning resolving to an A minor chord rather than a C major chord. It is called deceptive because two the notes in the chords are the same – C and E. The G however is replaced by and A.)
Lastly, interaction with the singers helped shape the work. When Rick Hammerly came over to record his solo for the cast recording, we made some refinements. Without a conductor, it was important to build in musical cues so that the actors know when to come in. For Rick, this meant adding in a few bells at the start of phrases following a held note.